7.5" Match Refill
Regular price

Sale price

$12.00
Out of matches? We have you covered. Restock your Glaze matchbox with our match refills. These thick-cut wooden safety matches are sure to ignite with ease.
For 8" Matchbox Model

This refill is for Glaze's archived 8" x 2.5" x 1.125" matchbox model. We discontinued this model in March 2022.
This refill also fits our new XL Walnut Matchbox.
Materials

Safety matches
Arrives packaged in drawstring bag
Specifications

25 matchsticks per refill
Individual matchstick: 7.5" x 0.2" x 0.2"
1.4 oz
Safety

Close matchbox before striking match. Strike match softly away from body. Do not place spent matches in matchbox.
Burn within sight. Keep away from combustibles. Keep away from children and pets.
Share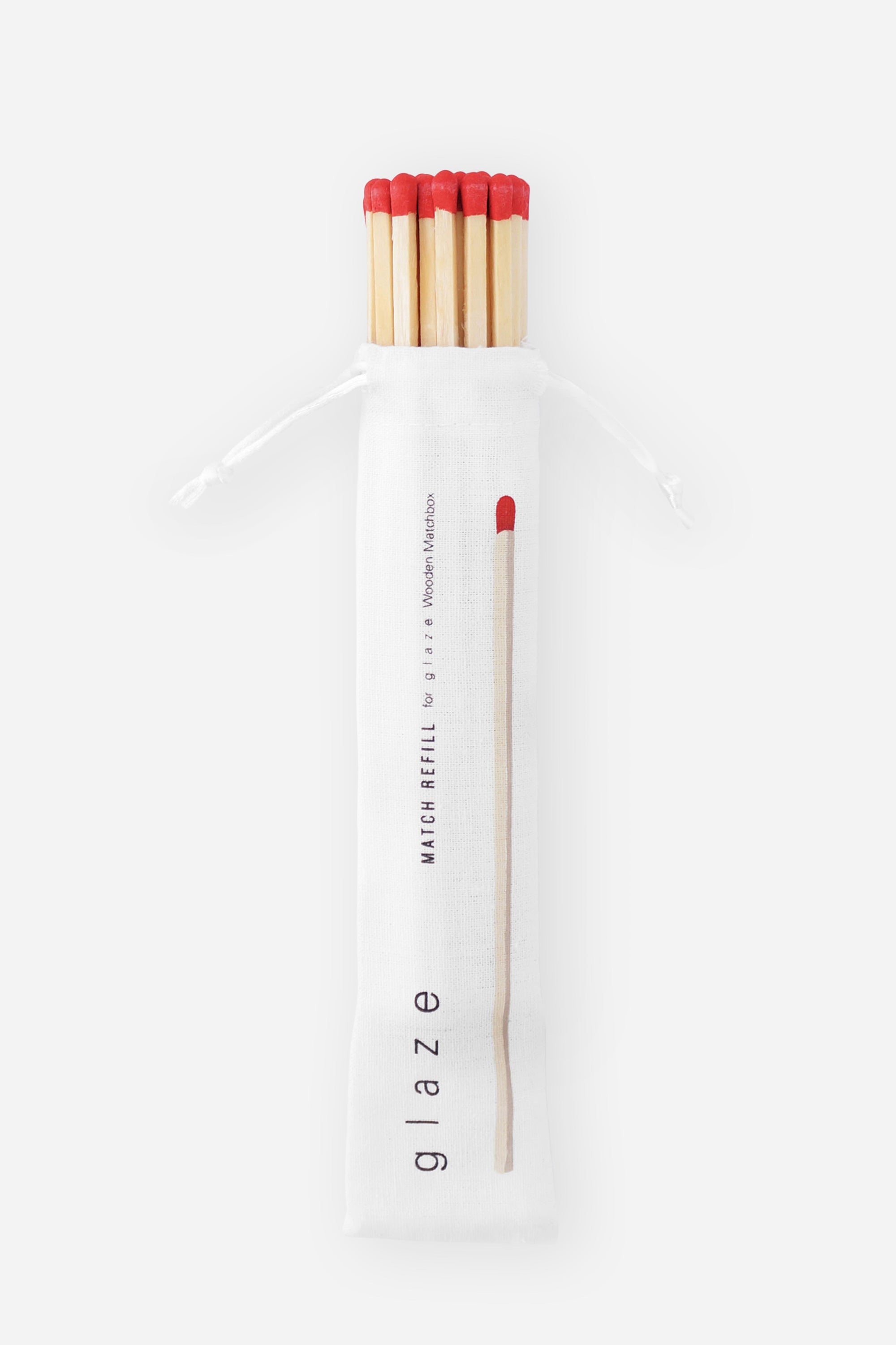 Strike away
Thick-cut splints

Gone are the days of flimsy matches.

Ignites with ease

No more endless striking.

Refillable

Restock your matchbox time and time again.

8" matchbox model

Perfectly fits our archived 8" model and new XL model.
Frequently asked questions
Why was Glaze's 8" matchbox model discontinued?

In March 2022, we made the decision to archive our 3" and 8" matchbox models and consolidated our assortment to one 5.5" model. This allowed us to clean up inefficiencies at our studio, and to focus on growing other aspects of our business. If you own one of our 3" or 8" models hand signed by Akeem Pierre Glaze, we thank you for being an early adopter. We hope these archived matchboxes will remain treasured forever pieces in your home.
Are these safety matches or strike-anywhere matches?

Safety matches. These refills are to be used with Glaze's matchboxes, which include a striking surface for ignition.
How many matches are in a match refill?

25 matchsticks per refill.
Do you ship internationally?

Unfortunately, we are unable to ship our matches outside of USA or Canada due to IATA restrictions.
What our customers are saying














Beautiful workmanship, very high quality, This is a must have for anyone that loves lighting candles, igniting a wood fire and so much more. Additional matchsticks come packaged in sweet little pouches that add a great touch, Love!

Jonig G.
I cannot think of a better customer service experience I have ever had. Bravo!

Jill W.
We thoroughly enjoy the matchbox. It is beautiful, just right for starting our wood stove, and a cherished gift from our daughter. 

Tim P.
I received my order today. You are wonderful. I loved the care and attention that went into the packaging. The product itself is flawless. Craftsmanship at its finest. Even the smell of the wood mixed with the matchsticks is amazing. Truly well done.

Jack J.
This candle is gorgeous! It looks amazing styled on top of a couple books or near some ceramics. I love looking at it. I probably won't light it but the company who makes it sells a "refill" so that's good to know. It arrived in a beautiful gift box so this would make a good gift as well.

Vegas22
Beautiful and well-made. I got this as a gift and it was a huge hit! The box is gorgeous, inside and out.

Wendy M.
I received my restored matchbox last week. You not only replaced the strike strip but also seem to have spruced it up a bit and made the mechanism slide more easil. Thanks for the extra care.

Wendy G.
Lovely box. Adds understated elegance to our guest bath, but would be nice anywhere. Matches that are included are very nice.

Pril B.
Would highly recommend this product as a house warming gift or for your own home. Definitely coming back to purchase the other finishes as gifts!

Lisa L.
Beautiful. This candle is awesome. Very unique

Kathy2020
Love it! Love it! Love it! Craftsmanship is beautiful. Aesthetically pleasing to look at, and the inner tray's slide is so smooth.

Oliveras1234
WOW! The length is just right to light my cigars. they're beautiful, pleasing to look at.

Oliveras1234