Matchbox Care
At Glaze, we believe in creating products that are built to last. We hope you choose to not only display your matchbox, but also enjoy using it for years to come. Whether you require additional matches, a replacement striking surface, or a matchbox repair, we've got you covered.
Matchbox Care Service
Regular price

Sale price

$0.00
Striking surface replacement and repairs, covered!
Temperature and humidity
As a natural material, wood will expand and contract in response to changes in temperature and humidity. To ensure optimal performance, our matchboxes have been constructed to slide correctly within the average home temperature range of 65°-78° F and a relative humidity of 30%-50%.
Directional slide
Please avoid flipping the inner drawer of your matchbox, as the slide has been meticulously adjusted to work specifically in the direction it arrives assembled.
Candle Care
Our candles are both sculptural and functional, and we hope you choose to light them and enjoy the warm ambiance they create. For the optimal burn, please refer to the instructions provided below. We also offer tips on restoring your brass holder. Refills are available for purchase once your candle has burned through.
Burn instructions
Place on a heat-resistant, stable surface out of direct sunlight.
Ensure the brass holder is snug and secured at all times.
To prevent drips, keep away from drafts. Be sure to protect your surface from potential drips.
Each lighting should be no longer than 4 hours, and no shorter than 1 hour.
Always burn both wicks simultaneously.
Self-extinguishes when approximately 3" of non-molten wax remains.
Burn within sight. Keep away from things that catch fire. Keep away from children and pets.
Wick maintenance
Our U Candle contains self-trimming wicks, which should not require maintenance. Always burn both wicks simultaneously, and keep the wax pools free of debris. Be sure to use a snuffer to properly extinguish your candle after each lighting. At the end of its life, your candle will self-extinguish when approximately 3" of non-molten wax remains.
Preventing wax drips
To ensure the best possible burn performance, we've partnered with a wick testing lab in Pompano Beach, FL, to create the perfect wax and wick combination. Our U Candle has been designed to be dripless when burned in a draft-free environment, as demonstrated by this successful burn test conducted by Domino. Nevertheless, we always recommend taking precautions to protect your surfaces from any potential drips. If you're planning a large gathering, drafts and drips are inevitable with any candle.
Domino Magazine burn test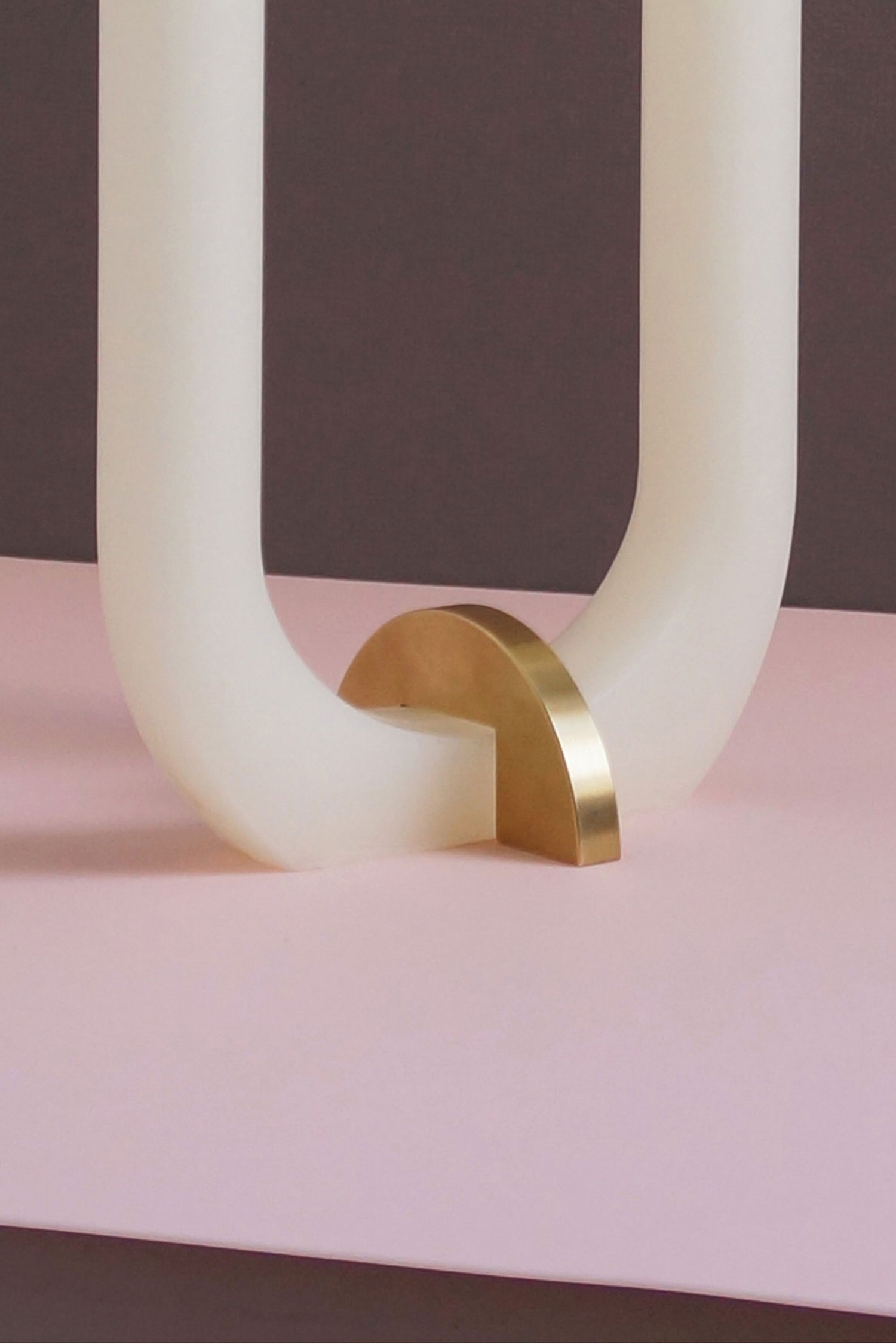 Brass holder restoration
The Glaze U Candle holder is made of solid brass, which naturally oxidizes over time. To restore your brass holder to its original finish, you can use a polish such as Brasso, or try a natural alternative like a mixture of lemon juice and baking soda.
Questions? Contact us.