Beeswax Black U Candle
Regular price

Sale price

$160.00
A bold new colorway.
Indulge in the artistry of our U Candle - a hand-poured, dual-burning statement piece for the home. It is delicately crafted from pure beeswax and secured in place by a solid brass holder, which wraps atop the candle's lofted base.
Innovation meets functionality in our quest to reinvent the art of candle burning. Drawing inspiration from the realms of both sculpture and utility, we have reimagined the conventional approach to molding, securing, and utilizing traditional tapers. The result is one that is both visually enchanting and functionally intriguing.
Materials

100% beeswax, dyed black. Never cut with paraffin, soy, coconut, palm, or any lower grade waxes.
Self-trimming wicks made from cotton and other natural fibers. No metal cores.
Solid brass holder.
Arrives packaged in a gift box.
Specifications

Burn time: 25 hrs per pillar
Net weight: 1 lb 3 oz
14" x 6.25" x 1.25"
Care

Place on a heat-resistant, stable surface out of direct sunlight.
Ensure the brass holder is snug and secured at all times.
To prevent drips, keep away from drafts. Be sure to protect your surface from potential drips.
Each lighting should be no longer than 4 hours, and no shorter than 1 hour.
Always burn both wicks simultaneously.
Self-extinguishes when approximately 3" of non-molten wax remains.
Safety

Burn within sight.
Keep away from things that catch fire.
Keep away from children and pets.
Keep away from drafts.
Share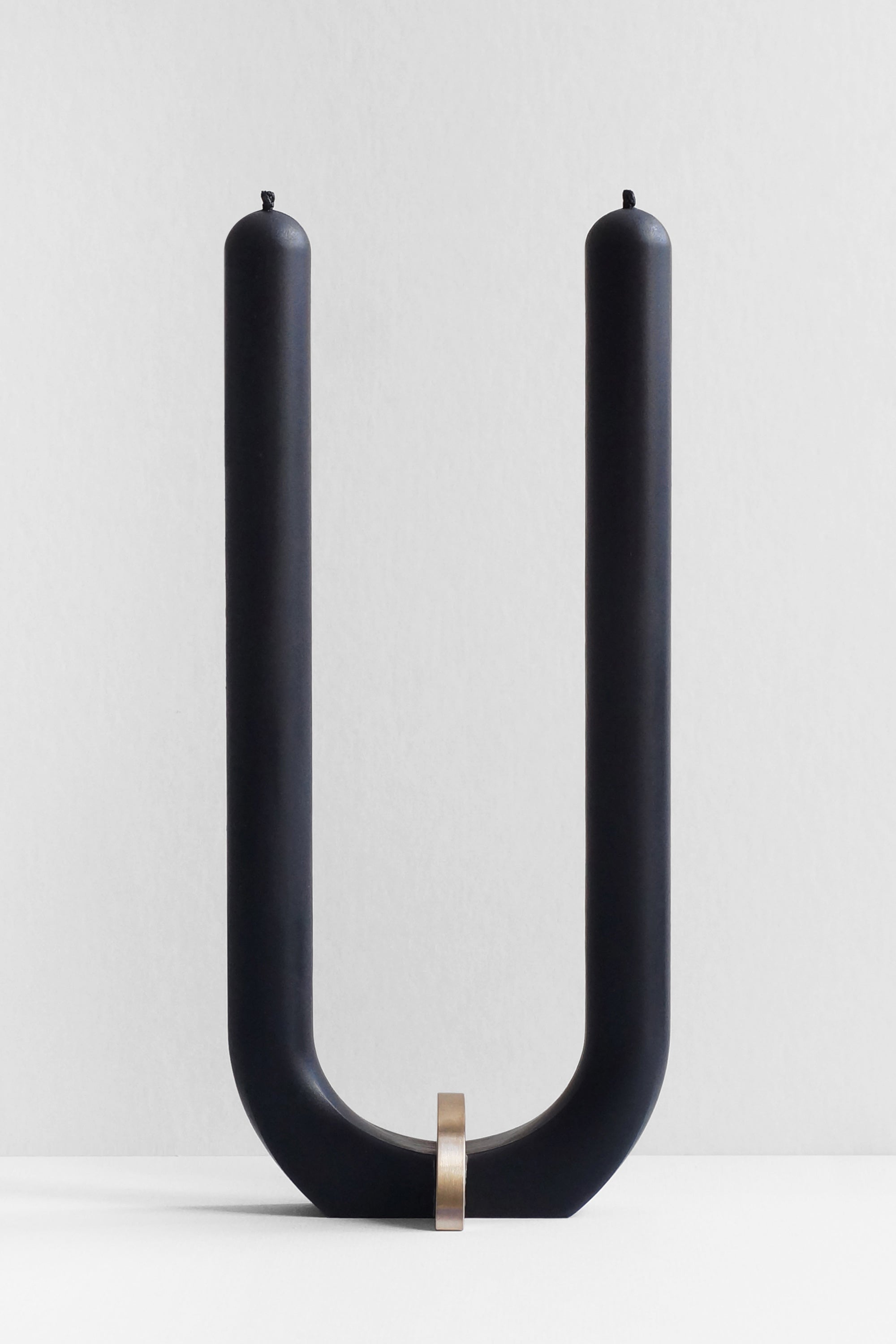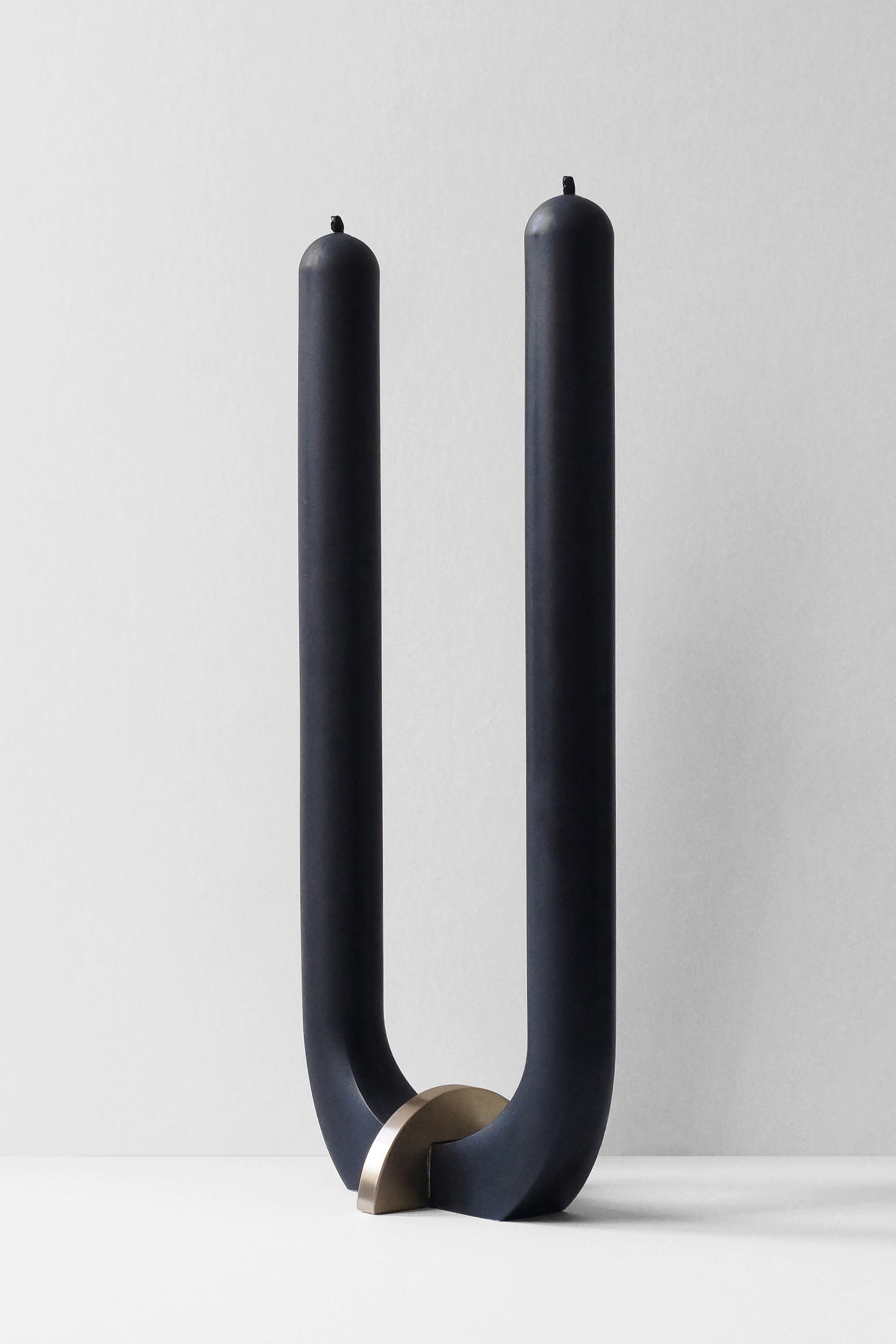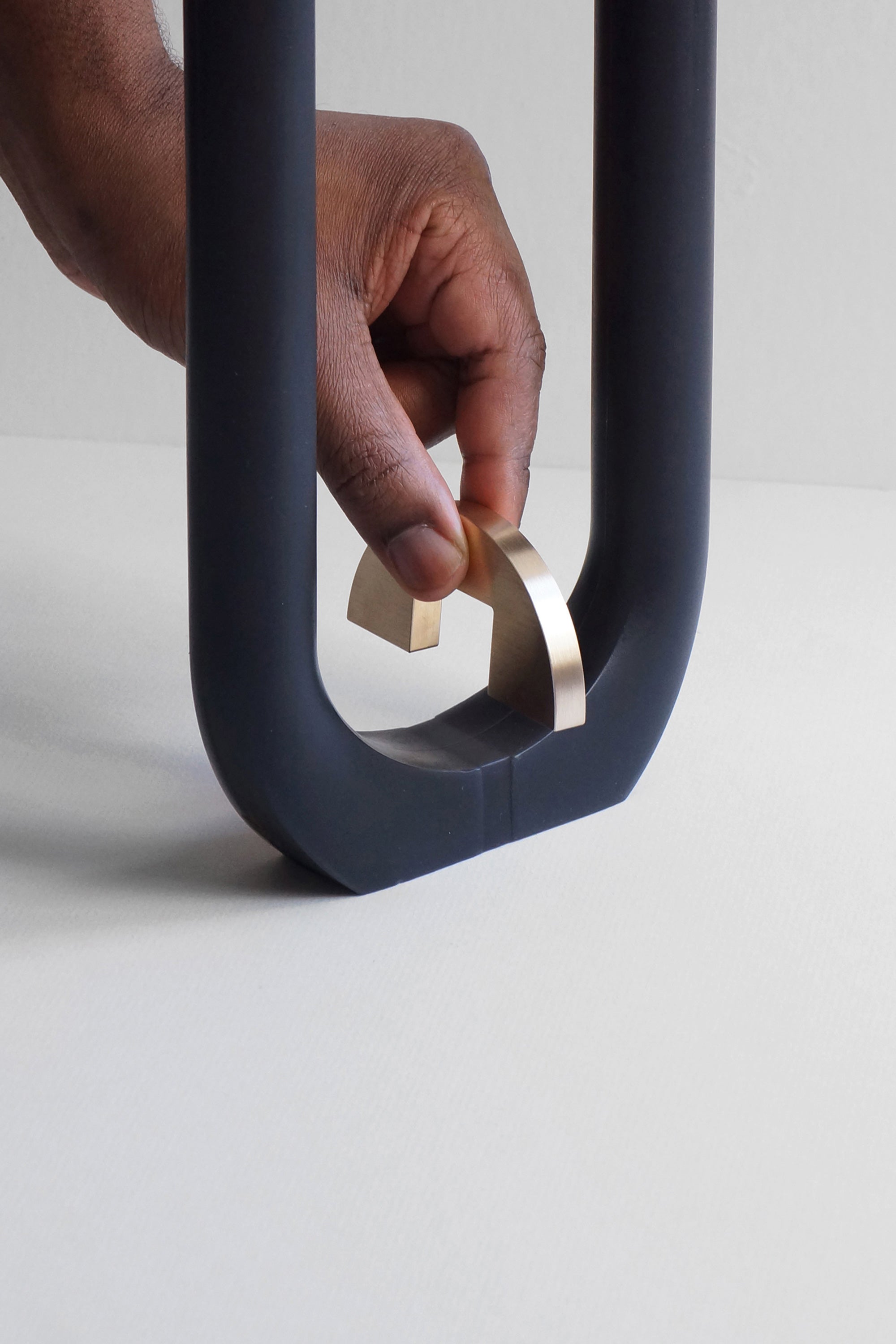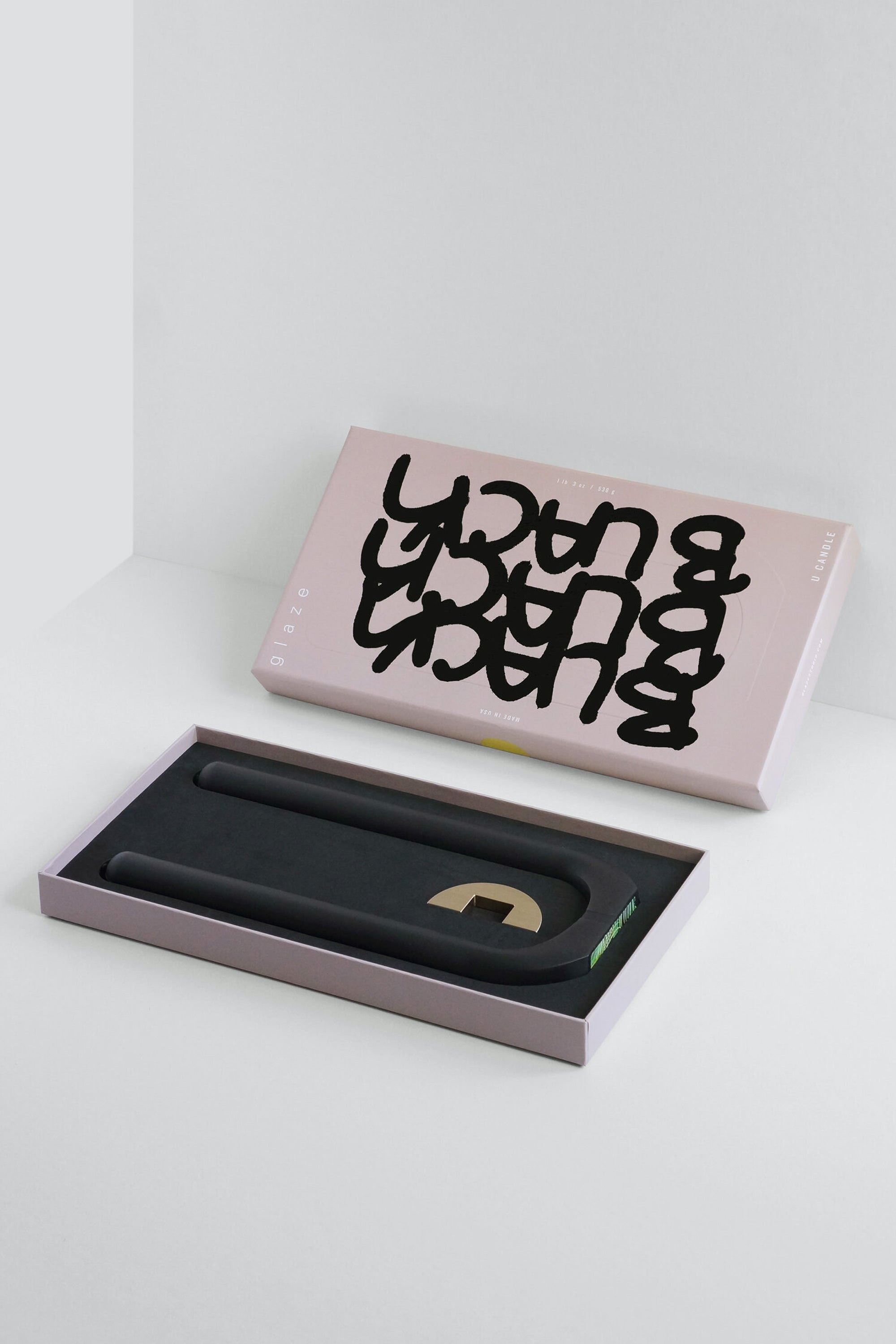 Statement piece
100% beeswax

Never cut with paraffin, soy, coconut, palm or any other lower grade waxes.

Natural wicks

Made from cotton and other natural fibers. No metal cores.

Clean burning

We chose beeswax and natural wicks made to create a candle free of toxins.

Refillable

Go ahead and light it. We've designed this candle to be refillable.
Frequently asked questions
Is it dripless?

To ensure the best possible burn performance, we've partnered with a wick testing lab in Pompano Beach, FL, to create the perfect wax and wick combination. Our U Candle has been designed to be dripless when burned in a draft-free environment, as demonstrated by this successful burn test conducted by Domino. Nevertheless, we always recommend taking precautions to protect your surfaces from any potential drips. If you're planning a large gathering, drafts and drips are inevitable with any candle.
Do you use paraffin wax?

Never! When we say 100% beeswax, we mean it. Some candle brands hide their actual wax composition by adding terms like "blend" to the candle label (e.g. "beeswax blend" which contains other types of wax). At Glaze, you can trust that we never cut our beeswax with any other waxes.
What type of wicks do you use? Do they require maintenance?

We carefully selected a wick made from cotton and other natural fibers without any metal cores. The unique weave of our wicks makes them self-trimming, which means they require minimal maintenance. To ensure a clean burn, make sure to keep the wax pools free of any debris. After each use, use a snuffer to safely extinguish the candle.
What is the burn time?

Not only is beeswax clean-burning, but it's also slow-burning. Our U Candle has an approximate burn time of 25 hours per pillar. Be sure to always burn both pillars simultaneously.
Does the candle burn all the way down to the table?

No. The wicks are tabbed so that your U Candle will self extinguish once 3" of non-molten wax remains.
What happens once I burn through the candle?

We sell refills! Hang on to the brass holder, and use it to secure your next refill in place.
What our customers are saying














Beautiful workmanship, very high quality, This is a must have for anyone that loves lighting candles, igniting a wood fire and so much more. Additional matchsticks come packaged in sweet little pouches that add a great touch, Love!

Jonig G.
I cannot think of a better customer service experience I have ever had. Bravo!

Jill W.
We thoroughly enjoy the matchbox. It is beautiful, just right for starting our wood stove, and a cherished gift from our daughter. 

Tim P.
I received my order today. You are wonderful. I loved the care and attention that went into the packaging. The product itself is flawless. Craftsmanship at its finest. Even the smell of the wood mixed with the matchsticks is amazing. Truly well done.

Jack J.
This candle is gorgeous! It looks amazing styled on top of a couple books or near some ceramics. I love looking at it. I probably won't light it but the company who makes it sells a "refill" so that's good to know. It arrived in a beautiful gift box so this would make a good gift as well.

Vegas22
Beautiful and well-made. I got this as a gift and it was a huge hit! The box is gorgeous, inside and out.

Wendy M.
I received my restored matchbox last week. You not only replaced the strike strip but also seem to have spruced it up a bit and made the mechanism slide more easil. Thanks for the extra care.

Wendy G.
Lovely box. Adds understated elegance to our guest bath, but would be nice anywhere. Matches that are included are very nice.

Pril B.
Would highly recommend this product as a house warming gift or for your own home. Definitely coming back to purchase the other finishes as gifts!

Lisa L.
Beautiful. This candle is awesome. Very unique

Kathy2020
Love it! Love it! Love it! Craftsmanship is beautiful. Aesthetically pleasing to look at, and the inner tray's slide is so smooth.

Oliveras1234
WOW! The length is just right to light my cigars. they're beautiful, pleasing to look at.

Oliveras1234